E-Newsletter & Alerts
As part of the Party's ongoing effort to keep Democrats informed of developments at the Party and to communicate our Democratic message, we urge you to sign-up for our electronic newsletter and email alerts.
Register

Register Register to vote today!
Volunteer

Volunteer Get Involved!
Donate

Donate Donate to the RIDP today!
JOIN US AT OUR NEXT
LGBTQ MEETING!
WEDNESDAY, MARCH 28, 6 pm - 8 pm
RI Democratic Party HQs, 200 Metro Center Blvd., Warwick
Learn about campaigns and elections, voter registration, supporting candidates, running for office and more.
For more info: afderosa79@gmail.com
---
MARCH IS WOMEN'S HISTORY MONTH

In 1987, Congress passed a resolution designating March as Women's History Month, to celebrate and honor women's achievements throughout history. This year, the theme is:
NEVERTHELESS SHE PERSISTED:
Honoring Women Who Fight All Forms
of Discrimination Against Women
It embodies the strength, persistence, and courage women have demonstrated, while fighting diligently to end sexual discrimination here and across the globe. Women of all ages continue to make their mark across all fields of endeavor: sports, government, finance, medicine, science, engineering, military, healthcare, education, and art and architecture.
---
Former First Lady Michelle Obama launched the educational initiative Let Girls Learn in March of 2015, which aimed to eliminate challenges preventing adolescent girls from receiving a quality education. Let Girls Learn invests in both existing programs and new projects to develop educational opportunities for girls, especially in areas of conflict or crisis.
---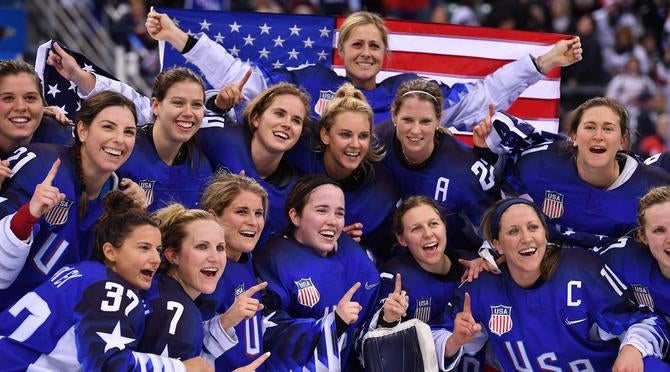 photo credit: USATSI
USA 2018 Women's Olympic Hockey Team Prevail at Pyeongchang to take the Gold
---
DNC Chair Tom Perez and DNC Women's Caucus Chair Lottie Shackelford on Women's History Month:
"Women's History Month is an opportunity to celebrate women of every color, class, creed, and sexual orientation who have made invaluable contributions to this country since its inception... Women are leading the resistance, and the Democratic Party will continue to stand in solidarity with women around the world marching for the equality they deserve."
---
Follow Us
Tweets by @RIDemParty
Tweets by @RIDemParty